These mechanical heart pendants by Frank Tjepkema are one of the more intricate pieces of art I've ever seen. I caught this gorgeous picture on Pinterest, and assumed this was a large (and very impressive) sculpture.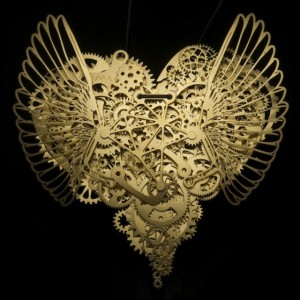 It wasn't until I visited Tjepkema's actual website that I realized this entire piece could nestle perfectly between my collar bones.
There is a whole series of these mechanical hearts, here is another one of my favorites.
Although I said that these pieces are by Frank Tjepkema, this is one of those annoying (to me) incidents when a successful artist has founded a company under their name (Tjep) and so it is impossible to tell if the pieces were created by the original artist or by a brilliant but invisible employee. If these pieces were made by someone other than Frank Tjepkema, I sincerely apologize for incorrectly crediting the work.