Another artist profile! Yay!
Rebeca Mojica, whose stunning chainmaille jewelry was featured on this blog last week, very generously agreed to do a profile for me. Her work is truly innovative and elegant, and as you'll see in this interview, she is a wonderfully joyful artist.
1) What do you love about your medium?
I love that chainmaille is so versatile. Given all the different sizes of rings, virtually an infinite number of textures and patterns can be created. I use colored metal, too, so that brings a deeper level of customization to my work. I guess I love the fact that there is something for everyone with chainmaille. You like big and chunky? Done. You want something intricate and delicate? No problem. Clothing? Yes. Sculpture? Sure.
I also love the repetitive act of creating chainmaille. Once I settle into a rhythm, it is completely satisfying to me to continue weaving for hours. I lose myself in the meditative motions, and before I know it, I "come back" to reality and discover I've created something beautiful.
2) Describe a piece of artwork that you find superficial or boring.
This is a difficult question. I suppose the artwork that I find boring would be something that is simply a rectangle of a solid painted color, with no textural variation. Now, sure, take a ton of small rectangles of differing hues or shades or textures, and arrange them artistically on a wall and that's interesting. But just a huge red square … well, it doesn't really do anything for me. I guess in some avant-garde way it might prompt me to question, "Is that art?" and that clearly may be the main purpose of such a piece. But frankly, I don't want to question if something is art, I just want to enjoy it. I want to be moved to feel something.
3) When did you first call yourself and artist, and why?
I started calling myself an artist a couple years after I began creating chainmaille. Really, it was prompted by being the "Featured Artist" at an Art Gallery Opening. "I guess if I'm good enough for them to call an artist, then I am an artist!"
Though I go back and forth between the words artist and artisan. Definitions vary, but to me, art is purely something to be enjoyed with the senses and it has little or nothing to do with physical functionality, for instance, visual or performing art. Artisan pieces, on the other hand, are objects that have an aesthetic element, but they are also functional, such as jewelry, purses, furniture, cuisine, etc. Some of my work is purely art (Sears Tower sculpture and Chainmaille Mandala). But most of what I do is more artisan-oriented.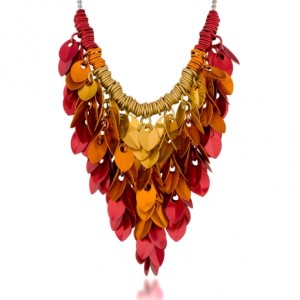 4) Describe an artist and/or piece of work that you find consistently inspiring.
This is another tricky question! I am inspired by so many things, and I think it is difficult to choose a single artist.
Could I choose the universe? Because that is really the only thing that is constantly inspiring me — the fact that the deeper we look in nature, the more we see. The variety of lifeforms and patterns, and the incredible scales at which the world works (both macro and micro) are astounding.
So as not to completely cop out –
Bear McCreary – Is an amazing musician. Through his music, I've been moved to tears, been covered in goose bumps, laughed, and smiled in wonder. I look forward to being inspired by his soundtracks for years to come.
Sky Cubacub – Obviously I relate to her meticulous work. 🙂 I love her versatility and am always excited to see what project she will tackle next. She is so young, which makes her triply-inspirational to me.
Alexander Volkov – Without a doubt, my favorite fine arts painter; his mastery of light and reflection is amazing. I could stare at his wintery scenes forever – they take me to a serene, quiet place. Living in the city I don't remember to appreciate nature as much as I'd like to, and his work gives me that opportunity. It is centering for me.
And of course, no list of my inspiration would be complete without mentioning Aerosmith. Whatever it is about this band, I don't know, but they never fail to lift my mood, and sometimes, as an artist in the middle blocked creativity, a mood-lifter is just what the doctor ordered. 🙂
5) What is your unique purpose for creating work?
It is an unstoppable force from within. Not only do I have the need to create, but I am a people-pleaser. It gives me such great satisfaction to create a piece that is "absolutely amazing" and "exactly what I've been looking for for years!" Obviously I understand the need to express oneself, and I am humbled and thrilled to pieces that I can help other people find an outlet by which they can express themselves. To see the smiles on people's faces and to hear the compliments they receive when wearing Rebeca Mojica jewelry — those are some of the main reasons why I do what I do.
I want to push this medium to new levels. When I hear people say, "Wow, I didn't know that chainmaille could do that!" then I know I'm on the right track. The fact that I've been doing this for a decade, and people still say that about my work, is one of the deepest rewards I could ever ask for.