Today I bring you an artist profile for an amazing mixed media artist, David Brady. David Brady uses found objects, sketches, paint, and all manner of other mediums to create these hauntingly beautiful creations. He is also a distant relative of mine, so I've gotten the benefit of some of his artist wisdom since I was pretty small. He was one of the first people to demonstrate how an artist can take themselves seriously, press into new and weird experiences, and still laugh at things that are funny. Here's some about his work in his own words.
What do you love about your medium?
I do love taking discarded objects, things that someone has no use for and bringing it back to life in a completely different context. The essence of being a mixed media or one that works with an unlimited source of material is how I view creativity, one with no rules.
Describe a piece of artwork that you find superficial or boring.
Where do I start, there is quite a bit of art that has nothing to say or reflect any emotion or truth. Art has always had a much bigger responsibility and purpose that most artists grasp. To answer your question…pretty much any art that has been in any hotel room i've stayed in. I don't go home and listen to elevator music either.
When did you first call yourself an artist and why?
I don't really see myself as an artist, rather simply a creative person. I don't like the paradigm that goes with the artists label as it is quite confining.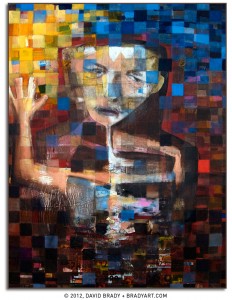 Describe a piece of artwork and/or an artist that you find consistently inspiring.
I am constantly inspired by artists that broke away from their successes and moved into unchartered territory creatively. Miles Davis and Duke Ellington music wise and visually Tim Hawkinson, Ai Weiwei, Francis Bacon, Picasso, Paul Klee and David Hockney to name only a few.
What is your unique purpose for creating work?
As they say "you were given a unique gift" so I've taken that to heart and work hard and being honest in my work. My purpose is to educate others on the value and relevance of art today, especially in our media saturated world. Art is still the king of when it comes to "a quiet moment of reflection". I strive to tell stories and visually explore emotions that we are often afraid of to help others connect to themselves and see the world around them differently.
Brady's work is currently on view at FIVE08 Gallery in Santa Monica. Wed-Sat. 1-7p. 310-994-9400